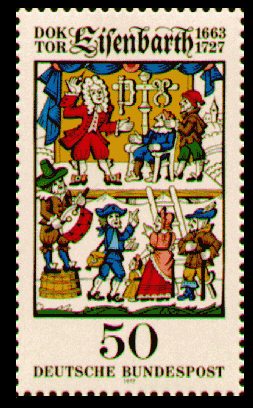 The Doktor Eisenbarth Memorial Stamp from 1977 to the 250th day of death
With his comedy stage Johann Andreas Eisenbarth attracted the curious ones on the market places. While he operated, loud music and the buffoonery's of his harlequins drowned the shocking cries of pain of his patients; there was no general anaesthetic at that time.
Eisenbarth is considered the "King of Advertisement". He was one of the first manufacturers of medicine who made and sold his remedies on a large scale. He invented surgical instruments (cataract needle and polypus hook among others). .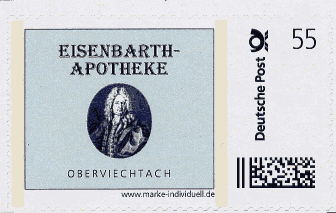 Eisenbarth Pharmacy in Oberviechtach
The Eisenbarth pharmacy in Oberviechtach wich also produces the "Eisenbarth Elixier", has a small series of "Eisenbarth stamp" designed and ordert. You can see Doctor Johann Andreas Eisenbarth in 30 years older. Now he order an new stamp with an pictures from " Doktor Eisenbarth fountaine" at Oberviechtach.