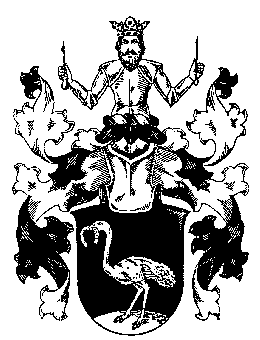 The coat of arms shows a semi-circle shield sign an ostrich with a horseshoe in its beak. On it a helmet in front view with a growing out bearded man, holding a cataract needle and polypus hook in his hands, below it an ostrich with a horseshoe in its bill (it was believed that an ostrich could eat iron).
Oberviechtach, his birthplace, is located near the town Vohenstrauß with ore mines, also a ostrich in the City coat of arms. Possibly Eisenbarth has its emblem on the basis of the "Vohenstraußer country", chosen near his old home because he knew it and it is his name and his profession aptly, so a speaking coat of arms. This underlines also the bearded man and polyps hook and cataract needle.
Canting coat of arms, also speaking coat of arms or crest name is called in heraldry such crest, alluding to the name of the holder of either or represent him rebusartig. This would include the horseshoe in its beak of the bird fit, because you eating the ostrich at that time due to legends as iron and digesting bird looked. It also comes more often in the arms of communities or families that are related to the ironworking. The so-called lancing helmet could be led to Eisenbarths time also of civic coat of arms.
The original color of his coat of arms are not known.